By default, the system is displayed in the region's language. You can switch between three variations of English:
English (Unites States)
English (New Zealand)
English (Australia)
On the toolbar, click the Language dropdown.
In the opened drop-down list, select the language.
The system then refreshes the page and changes the language according to the selected language.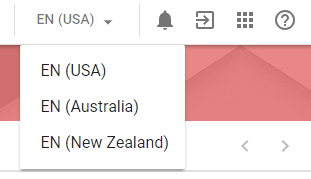 Once a new language is selected, the system will reload the page and apply the selected language to the interface of the Corporate Portal.